Isleta Amphitheater | Albuquerque, NM
Blackberry Smoke's Spirit of the South Tour comes to Isleta Amphitheater on Thursday 6th August 2020! A celebration of all thing Southern rock, the tour is a festival of sorts, bringing together not only the incredible headliners but a mighty support line-up that includes The Allman Betts Band, Jaimoe & The Wild Feathers!
"We are beyond excited to bring our Spirit Of The South tour to fans this summer. If you think of this music as a genre and you step back far enough to see the scope of what a handful of bands from the South were able to accomplish, it's pretty damn staggering. All without giving a damn about what was hip or trendy at the time. It's music that is a part of the fabric of people's lives…music that we all love and cherish deeply. On this tour we'd like to celebrate the musical freedom championed by those pioneers and maybe help tell the story. It's not only what people think of as Southern Rock, but all the elements in Rock and Roll that make it Southern. It's blues, gospel, soul, jazz and bluegrass…everything that took root in the South and spread all over the world. We feel this tour is going to give us all a unique opportunity for something really special. I think everyone will love the Celebration!"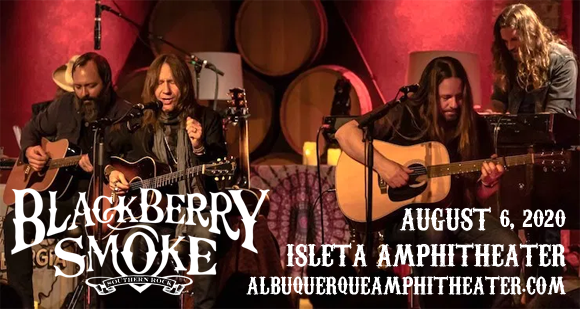 Formed in 2000 in Atlanta, Georgia, country-rock band Blackberry Smoke made its debut in 2003 with the album Bad Luck Ain't No Crime. Over the next few years, they built a reputation for themselves touring as support for more established Southern rock acts like Zac Brown Band, Eric Church, ZZ Top, and Lynyrd Skynyrd. The band released its follow-up to Bad Luck Ain't No Crime – Little Piece of Dixie – in 2009, but it was 2012's third studio album, The Whippoorwill, that acted as their breakthrough. The album hit the top-20 on the Billboard Independent Albums, Top Rock Albums, and Top Country Albums charts, and was their first top-40 entry on the Billboard 200. To date, the band has released six studio albums, including 2016's Like An Arrow, which debuted at number-one on the US Billboard Country and Americana/Folk charts as well as the UK Rock and Independent Albums charts.