Isleta Amphitheater | Albuquerque, NM
It's the show of a lifetime, a special display from Grateful Dead's original members and fellow musicians of top quality. Of course this could only mean – Dead & Company are back on the road!! Coming to Isleta Amphitheater on Wednesday 11th July 2018, here's the chance you've all been waiting for! Tickets will disappear quickly for such an iconic group so it's recommended that you book in advance!!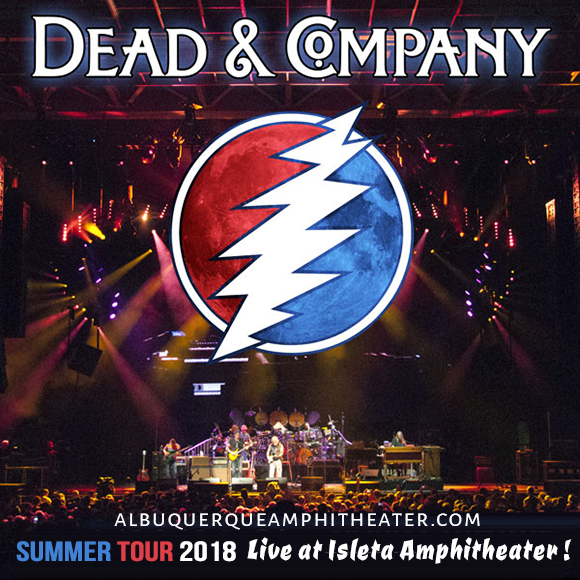 Through the career of Grateful Dead and their passion to continue the music on, Dead & Company was born. As John Mayer fully backed the idea of a new band rising, Bob Weir was also convinced, as were the rest of the members. Now Mayer and original Grateful Dead members Weir, Hart, and Kreutzmann formed the band, along with keyboardist Jeff Chimenti and bassist Oteil Burbridg – all take to the road to do what they do best, in an exciting live show that blows the crowd away each and every single time!
Dead & Company started to tour in the Fall of 2015 and announced their first show to take place in Madison Square Garden, with this performance, it was just a small matter of time before they grabbed the attention from their fans, across North America and worldwide and they realised that this magical showcase must continue. Each year they travel across the country and stop off along the way to give the people what they want. With Grateful Dead hits and new material, these guys are a sensational group to see live in concert. There's nothing like seeing legendary artists perform!
And as John said he "will never close the door on Dead & Company, ever." and Weir described his experience as a "cosmic, out-of-body vision" he had, and a subsequent dream, of the band continuing for decades."
Come and catch the incredible group this summer, here's their Isleta Amphitheater date, tickets are up for grabs but won't hang around for long!