Isleta Amphitheater | Albuquerque, NM
Get ready for the biggest co-headlining show in metal this year – Five Finger Death Punch and Breaking Benjamin! They're coming to the Isleta Amphitheater on Sunday 29th July 2018, joined by recent rock hitmakers Bad Wolves! No metal fan can afford to miss this – grab your tickets NOW while they last!!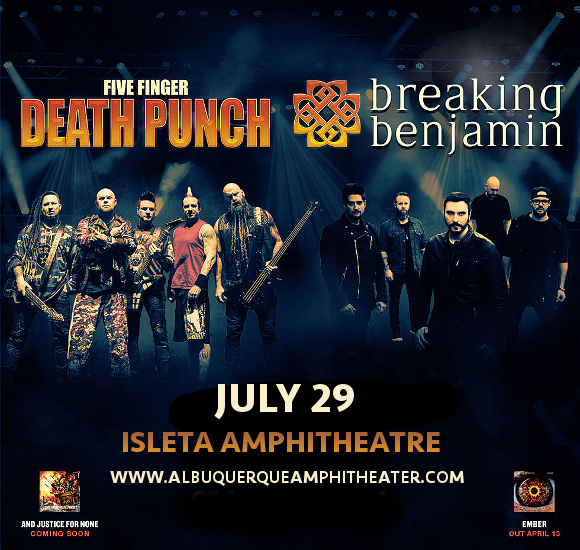 Breaking Benjamin's highly anticipated sixth album, "Ember," is due out in 2018, featuring the high-energy single "Feed The Wolf," and the rapidly chart-scaling "Red Cold River" – watch the music video for it below. As for Five Finger Death Punch, it didn't take long since the release of their last album, "Got Your Six," in 2015, before the band were back in the studio diligently working on the next one. "Everybody is a workaholic. This is what we do," firmly stated guitarist Zoltan Bathory. "In fact, I can't really go on vacation and shut down my phone. I can't do that. You know what I mean?! And that's just what it is. We all have a studio at home… So somebody is always working on something. And I think it's about efficiency. If I'm working on something in the studio, then Jason and Jeremy are working in theirs. And then when I'm going home and working on some pre-production of mine, then they're in the studio. So we're always just kind of bouncing around."
What are you waiting for?? Grab those tickets while you still have the chance and get ready to experience it all in person!