Isleta Amphitheater | Albuquerque, NM
Feel the magic in your Bones and satisfy the feeling of wanting great music in your soul as you immerse yourself in a concert experience that only Imagine Dragons can deliver! Join thousands of other Fire Breathers this Sunday, August 7, in an evening that will turn Isleta Amphitheater into a haven of great music, electrifying performance, and creative showmanship from one of the most prominent bands in the world today! Call all your friends and secure your concert tickets because the Dan Reynolds-led band will give you nothing but the best concert experience this summer! You don't want to miss their Mercury World Tour, do you? So click on "Get Tickets" now!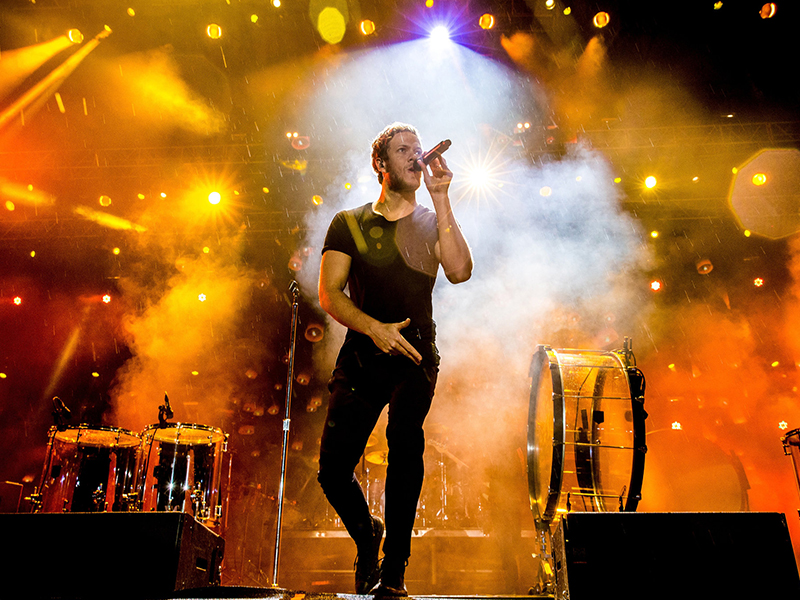 As one of the most prominent bands on American soil today, Imagine Dragons is more than just another rock band. Led by its vocalist Dan Reynolds, the Las Vegas-based group has continually challenged itself to reinvent its sound. They started in the early 2010s with their percussion-heavy sounds that blend arena rock energy and catchy pop choruses. Hits like "Demons," "On Top of the World," "It's Time," and "Radioactive" became staple hits of the band and dominated the radio waves. The latter even earned the band its very first Grammy in 2014.
The band's succeeding albums showed their versatility by breaking
down the walls among genres as they incorporate elements of EDM, RnB, rap, and reggaetón with classic rock — solidifying the band's claim of being "genreless." Thus, they constantly prove that artists do not have to be limited to a singular sound to gain a fan base.
Imagine Dragons hit songs from 2015's Smoke + Mirrors and 2017's Grammy-nominated album "Evolve" continued to capture the audience's attention all around the world. The hits "Believer," "Thunder," and "Whatever It Takes" were all certified multi-platinum singles and broadened the band's fanbase.
Their newest album, "Mercury: Act 1," released in 2021, is described to be split into two sides: one organic and looking inward, the other more aggressive and looking outward. The album touches on themes of loss, loneliness, and grief while celebrating life. It will be followed by its highly-anticipated sequel, "Mercury: Act 2," which is expected to be released this May.
The good news is that Imagine Dragons will be on the road for a tour that will support the album. Joined by the American rapper Macklemore and the charismatic musician Kings Elliot, the band will embark on a 29-date tour in the US and Canada — and Albuquerque's Isleta Amphitheater is lucky to be one of the band's destinations.
Yes! You can catch Imagine Dragons with the support acts Macklemore and Kings Elliot this August 7, 2022! Macklemore is known for his smash hit "Thrift Shop" with Ryan Lewis. The single earned worldwide popularity and was dubbed by Billboard as the first song since 1994 to top the Hot 100 chart without the support of a major record label. On the other hand, Kings Elliot is a London-via-Switzerland newcomer who is known for her songs such as "Call Me A Dreamer" and "Dancing Alone."
With the addition of these two incredible acts in the lineup, fans are in for a treat for only the best live performances this August 7. So grab your tickets now and let the "Mercury World Tour" heat take over you!