Isleta Amphitheater | Albuquerque, NM
Isleta Amphitheater presents Kendrick Lamar, SZA & Schoolboy Q on Tuesday 15th May 2018! A huge show for any Hiphop fan!! Pulling out all the stops, Kendrick Lamar, SZA & Schoolboy Q knows how to make a crowd go wild, with his phenomenal flow – an unforgettable live show! With non stop high store reviews and hype around Kendrick right now – tickets are selling fast, book today!
"This album is in my TOP 5 best rap albums ever. Great, masterpiece."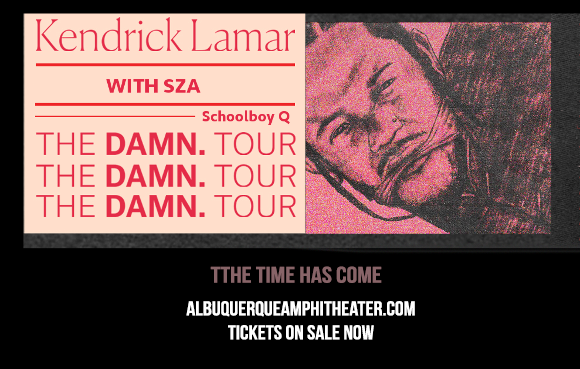 As one of the most influential names in Hiphop Kendrick Lamar has always been the one to watch since he first came about onto the scene!
2012 was an important year for Lamar's career as he released 'good kid, m.A.A.d city', with this album he of course smashed the charts at two position on the US Billboard 200 and the album certified platinum! As he shot up to superstar status – every single fan was blasting his music on the radio, in their cars and passing on to their friends as all the tracks were catchy, iconic and fresh sounding! Singles such as; "Swimming Pools (Drank)", "Bitch, Don't Kill My Vibe", and "Poetic Justice".
Another year that gained Kendrick the attention and feedback he truly deserved was in 2015 as he won his first Grammy Award! Jazz, funk, soul, spoken word, Hiphop – you name it, this guy has got it and it's done with such charisma but in a chilled way!
Kendrick Lamar doesn't need to be hyped up as he is continuing to prove himself through his new releases and sheer talent that has always and always will grab the attention of the masses!
If you have the opportunity to catch this guy LIVE in 2018 spring time – then there's no time like the present to run and book your tickets for a show that will be out of this world and have you talking about it for years to come!!