Isleta Amphitheater | Albuquerque, NM
Like most artists who released new albums in late 2019, Korn did not get the opportunity to mount a widespread tour in support of The Nothing – as the COVID-19 pandemic took care of that, particularly the highly anticipated summer 2020 outing that would have seen them co-headlining with Faith No More. But 2021 promises to make up for it as both Korn and Staind announce a joint tour this summer. The tour announcement comes after Korn played a livestream show from the set of the Stranger Things: Drive Into Experience in Los Angeles, and after Staind recently streamed two concerts, including one in which they performed their multiplatinum 2001 album Break the Cycle in its entirety.
The newly announced tour will kick off on August 5th in West Palm Beach, Florida, and run through a September 21st show in Dallas. Both bands will then play the Louder Than Life festival in Louisville, Kentucky, on September 23rd. Korn are also slated to play a couple of dates with System of a Down and Faith No More at the Banc of California Stadium in Los Angeles on October 22nd and 23rd.
Fans of the bands in New Mexico, can't wait to see you at Isleta Amphitheater on Wednesday, 15th of September! Get your tickets by following the link below.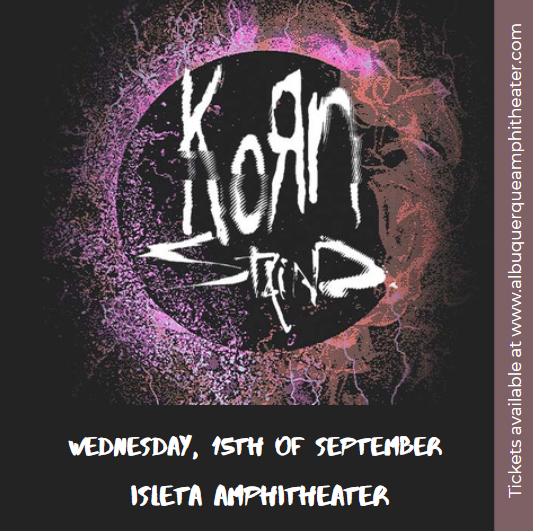 After the release of The Nothing, fans were anxiously anticipating the live tour. Openly one of the darkest Korn albums, The Nothing is honest and raw, an expression of David's painful loss. And isn't music the most powerful way for an artist to share their truth with the world. Hundreds of thousands of fans and critics around the world opened their hearts to his anger and sorrow, and The Nothing became one of the most successful metal albums of the year.
Their live streamed concert was a promise of what we could all experience live one day. Critics and fans alike described the event as a true expression of who Korn are – pioneers of nu-metal, who have always been about uncommon sounds and sonics. Some songs from the set included "Justin" which began with some sublime guitars, while "Black Is the Soul" was undoubtedly the hugest-sounding selection performed of the entire set. "Alone I Break" also made good use of dynamics, while Fieldy danced and pranced during "Narcissistic Cannibal".
If this small glimpse of what an amazing night 15th of September could be made you long for a ticket, follow the link below.