Isleta Amphitheater | Albuquerque, NM
Calling all fans of alternative rock!! The Isleta Amphitheater is about to bring you an epic event on Saturday 18th August 2018 – The Cult, Stone Temple Pilots and Bush, on their co-headlining Revolution 3 Tour!! Tickets available now and selling fast!! Don't wait about to get yours – hit that "Buy Tickets," button NOW and grab' em before they're gone!!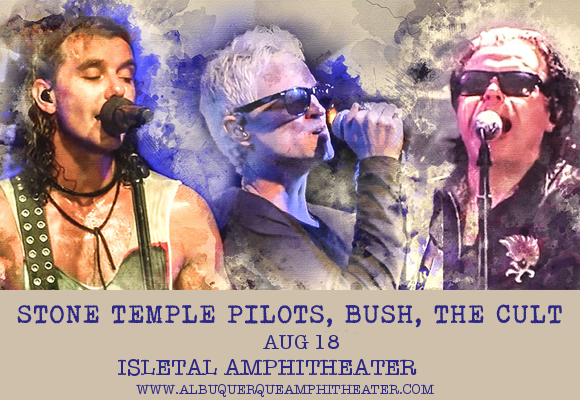 One of the biggest goth rock acts to rise out of the dedicated scene in the United Kingdom of the 80s, going on the blow up in the US with a more hard-rock orientated sound. The Cult are touring with their most recent album, "Hidden City," of 2016. Having been around since the 80s, the band are very selective with their playlist while on tour, as guitarist Billy Duffy explained in an interview: "Obviously you want to make an impactful show… There are some practical, pragmatic decisions made. If you're playing to a crowd who are not very familiar with you, there's no point of going too deep but we do always make sure we play a new song…it just alerts people to the fact that, yes, we have made a record in the last 30 years. You know and that's a good thing. Psychologically, that's the blood transfusion that we need."
Get ready to experience the live setlist for yourself and see that The Cult are still in their prime more than 30 years on!! Don't delay – get your tickets today!!