Isleta Amphitheater | Albuquerque, NM
To celebrate half a century in the biz, The Doobie Brothers are bringing a very special tour to Isleta Amphitheater on Wednesday 7th October 2020 for two nights! The 50th Anniversary Tour sees both Tom Johnson and Michael McDonald performing as part of the band (the first time McDonald has been an official member in 25 years, although he has performed with them sporadically as a guest), so fans can look forward to a set of classic Doobie tunes that span all eras of the group's tremendous back catalog, including tracks like "Listen to the Music," "Black Water," "China Grove," "What a Fool Believes" and "Long Train Runnin'!"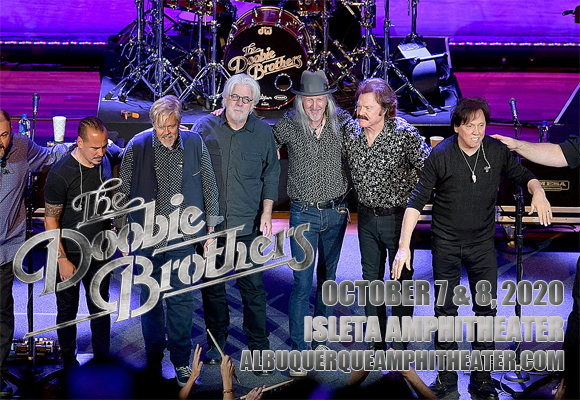 An enduring and varied band with an eclectic array of influences, The Doobie Brothers has remained a radio staple for 50 years. Formed in 1970 in San Jose, California, the group found fame with a unique mixture of rock and roll, folk, country, and R&B. Helmed by lead singer Tom Johnson, the band's first four albums launched a bevy of hit singles, including "Long Train Runnin'". In 1975, Johnson left and the band took on new frontman Michael McDonald, who brought a soulful flavor to their music. In 1982, the band officially split, but five years later it reformed with Johnson once again joining as frontman and McDonald joining sporadically for gigs and tours as a special guest. In 2019, McDonald rejoined the band as an official member to celebrate the group's 50th anniversary and embark on a nationwide tour. The band was inducted into the Vocal Group Hall of Fame in 2004 and will be inducted into the Rock and Roll Hall of Fame on May 2, 2020.