Isleta Amphitheater | Albuquerque, New Mexico
Are you ready to hear Jason Aldean sing his latest hit, "That's What Tequila Does," in front of hundreds of screaming fans? Well, you should be because the three-time CMA Entertainer of the Year is more than ready to entertain his fans this summer with his brand-new music from his latest album, "Georgia." Dubbed the "Highway Desperado Tour," the tour will stop at Isleta Amphitheatre to give his New Mexico fans one of the best country concerts this summer. Joined by the "We Got History" hitmaker Mitchell Tenpenny, Jason Aldean will perform at the famous Albuquerque venue on October 6. Completing the lineup of guests are country singer-songwriter Corey Kent and DJ/Producer Dee Jay Silver. With such incredible supporting acts, this concert is a must-see for all country music enthusiasts. Hit the "Get Tickets" link to start booking your tickets.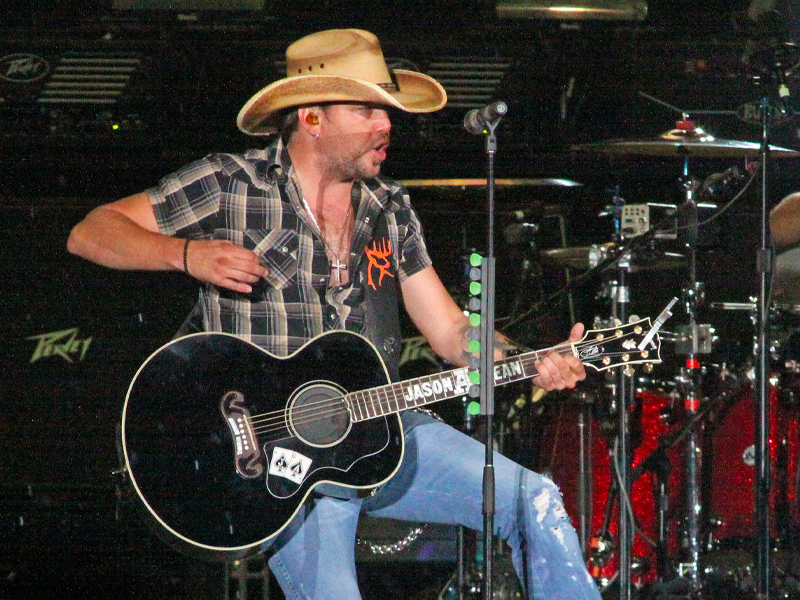 Jason Aldean paves a unique way in the country music scene, choosing not to produce traditional and bro-country sounds. With his edgy swagger and intense ballads, he has become one of the biggest names in the scene. He has released eleven studio albums, with "Georgia" released in 2022 being his most recent. Out of his 38 singles, 27 are top charting either on Billboard's Hot Country Songs or Country Airplay. These include "Fly Over States," "Take a Little Ride," "A Little More Summertime," "Any Ol' Barstool," "You Make It Easy," and "Trouble with a Heartbreak."
Mitchell Tenpenny blends bro-country with soulful sounds, making him stick out among the hearty partying music characterized by the genre. He has released five extended plays and three studio albums. The first of his albums was "Black Crow," released in 2015. His debut on the charts was with the "Drunk Me" track. He reached the top ten on the radio with his co-written song "If the Boot Fits" with Granger Smith.
Corey Kent arranges music like no other; he blends classical country with modern pop. He first gained attention when he joined the 2015 edition of The Voice. He has released two albums: "Long Way" and "21." His shine was noticed after his competition covers reached the charts. He did this again last year when he covered Tyler Joe Miller's "Wild as Her."
Top touring DJ Dee Jay Silver has reached multiple venues in multiple countries in his 15 years of career. His innovative format in DJying has brought him millions of listeners. A part of his performances is his ability to mix many genres of music to suit the crowd he is playing to, from country to pop. You name it; he can make bops.
The country stars and DJ will be in the lineup for the "Highway Desperado" tour led by Jason Aldean. One of their stops will be at the Isleta Amphitheater on Friday, October 6. See them live!