Isleta Amphitheater | Albuquerque, NM
They collaborated not once, but twice in 1997's "Love is All We Need" from Mary J. Blige's third album "Share My World", and another one from "Reach Out" off Nas' 2012 album "Life is Good". Their chemistry on record has been undeniable. Now it's high time for fans to see and hear it, finally, on the live concert stage. Mary J. Blige & Nas' North American co-headlining tour covers 22 cities. And yes, they're headed towards the Isleta Amphitheater on Tuesday 20th August 2019 for a one-night-only concert. Two leading forces mean two groups of rabid hip-hop fans raring to get their hands on tickets to this show. Act quickly and book your tickets now before they run out.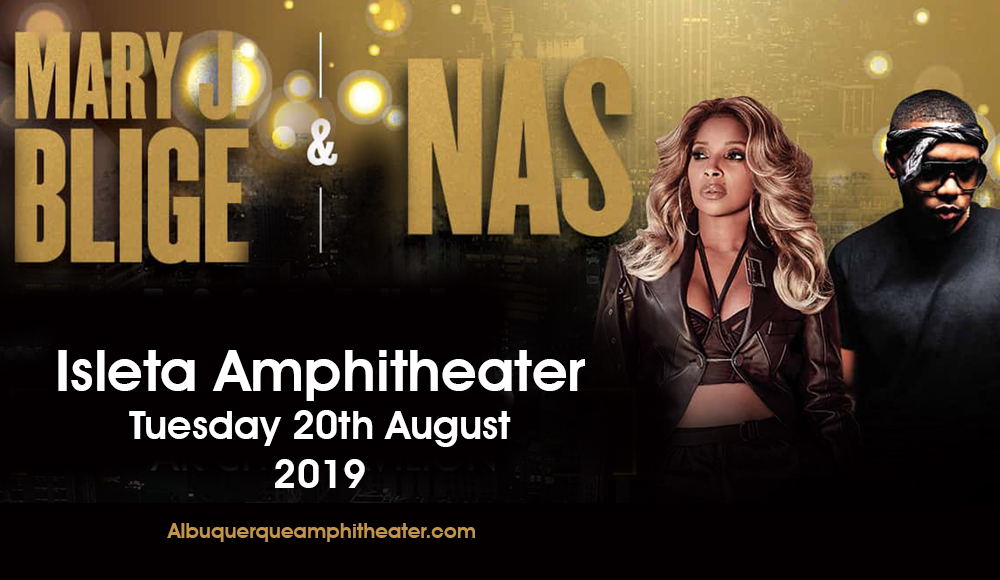 With their amazing chemistry on record for the songs "Love is All We Need" from Mary J. Blige's third album "Share My World", and another one from "Reach Out" off Nas' 2012 album "Life is Good", a double-headliner concert was truly long overdue. Finally, this event is now coming to pass… Mary J. Blige & Nas will reunite after almost a decade, but this time, on the live concert stage. Fans from both camps are hyped-up and really looking forward to experience and witness on the live stage, one of the most phenomenal duet-collaborations of all time.
Mary J. Blige is a highly esteemed artist and considered one of the reigning royalties of r&b music. Albums and singles that were pivotal to her career were What's the 411? (1992) which yielded the hit singles "You Remind Me" and "Real Love." Then My Life album from 1994 spawned hits such as "Be Happy" and "You Bring Me Joy." Then in 1996, she clinched her first Grammy Award for "I'll Be There for You/You're All I Need to Get By," a duet with Method Man of the Wu-Tang Clan. She achieved chart and sales success with Share My World (1997), reaching No. 1 on the Billboard albums chart, featuring "Everything" and "Love is All We Need;" along with No More Drama in 2001 with the title single and "Family Affair." Then The Breakthrough from 2005, was a 7 million album-seller, which also gave her three more Grammys for "Be Without You".
Colloborating and working with Nas has brought Mary J. Blige to perceive him as a "prophet". "He's always been the person with the message. He's just always been a great person. He's very into what he is doing. He has a lot of integrity and his life shows that," she says. No wonder, Nas has had a constant run of great reviews from critics and was given a five star rating by AllMusic for his 1994 debut album titled Illmatic, featuring the singles "Halftime," "It Ain't Hard to Tell" and "The World is Yours." Then his sophomore album It Was Written hit No. 1 on the charts with the tracks the tracks "If I Ruled the World (Imagine That)," "Street Dreams" and "The Message"; and once again got glowing reviews from critics. The rest of his critically-acclaimed and chart-topping albums and singles include I Am, which features the singles "Nas is Like" and "Hate Me Now"; album Life is Good, with the songs "The Don," "Daughters" and "Cherry Wine".
This show is a must-see! Book your tickets now!