Isleta Amphitheater | Albuquerque, NM
Slayer fans, you've all heard – Slayer were on their farewell tour in 2018, but by popular demand, metal's most notorious band have extended the slog into 2019 – meaning you STILL have a chance to see them!! That's right, you could be there at one of the LAST EVER shows of the founding fathers of thrash metal – but only if you're quick about grabbing those tickets!! Get yours now and get ready for the show of the lifetime at the Isleta Amphitheater on Friday 3rd May 2019!! Don't delay – act NOW to be sure of your space at the show!!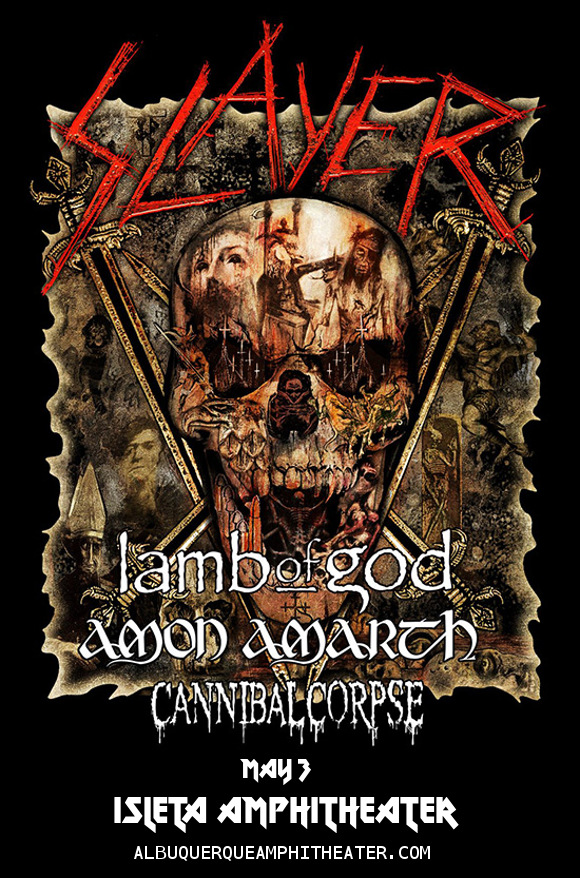 Founded by bassist/vocalist Tom Araya and guitarists Kerry King and Jeff Hanneman in 1981, Slayer's high-speed, high-octane music set them alongside Metallica, Anthrax and Megadeth as one of the Big Four bands that brought about the heavy metal genre. Slayer in particular are credited by many with the invention of thrash metal – their fast and furious style was the inspiration not just for other thrash bands, but for the creation of all new genres including black metal and death metal.
According to MTV, Slayer's "downtuned rhythms, infectious guitar licks, graphically violent lyrics and grisly artwork set the standard for dozens of emerging thrash bands," many of whom have directly stated Slayer as an influence – some of these include Bullet For My Valentine, Slipknot, Cannibal Corpse, Gojira, Hatebreed, Lamb Of God, Behemoth and more!!
No metal fan and ESPECIALLY no Slayer fan is going to want to miss the chance to bid farewell to one of metal's greatest legends. Get your tickets NOW while they last!!