Isleta Amphitheater | Albuquerque, New Mexico
Get ready for an out-of-this-world concert experience as two of the biggest names in hip-hop join forces for an extensive headlining tour. The "High School Reunion Tour" will take Snoop Dogg and Wiz Khalifa to share the stage, reuniting like it's 2012. The acclaimed hip-hop kings dropped a slew of hit singles and global-favorite tracks over the last decade including "Kush Ups", "You and Your Friends", "No Social Media", and "Young, Wild & Free". The massive tour will kick off this summer, hitting the stage at Isleta Amphitheater on Tuesday, 22nd of August 2023. Don't miss out on this year's biggest reunion by booking your tickets now!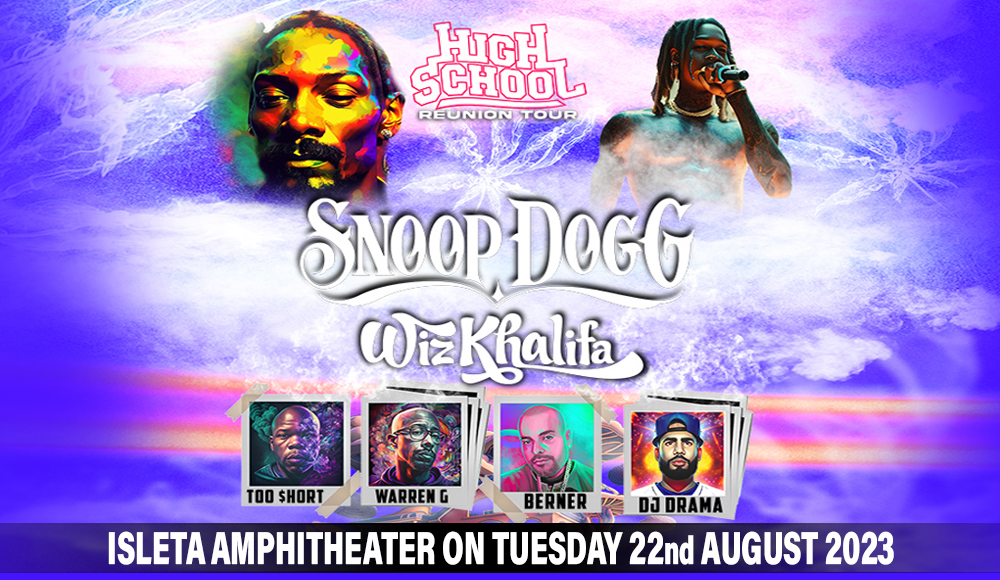 One of the industry's biggest rappers, Snoop Dogg just announced this year's biggest reunion tour, a massive 33-city "High School Reunion Tour" trek, joining forces with the one and only Wiz Khalifa. Kicking off this summer, the tour will feature special guests Too $hort, Warren G, Berner, and DJ Drama.
The rap and hip-hop legends took the world by storm with the release of their global hit single "Young, Wild & Free" back in 2012. Since then, the two rappers propelled to become even bigger names in the industry, defining the hip-hop and rap landscape for the decade.
Since the early 2000s and 2010s, Snoop Dogg and Wiz Khalifa dropped a slew of hit records and scored multiple Grammy nominations, awards, and several accolades for their astounding artistry and influence. Snoop Dogg's notable hits include "Beautiful" featuring Pharrell and Charlie Wilson, "Drop It Like It's Hot" featuring Pharrell, "Signs" featuring Justin Timberlake and Charlie Wilson, "Wet", "Peaches N Cream" featuring Charlie Wilson, and "Young, Wild & Free" featuring Wiz Khalifa and Bruno Mars.
Wiz Khalifa's notable hits and crowd-favorite hard-hitters include "Black and Yellow", "Roll Up", "Work Hard, Play Hard", "Remember You" featuring The Weeknd, "We Own It" with 2 Chainz, "Sucker for Pain" with Lil Wayne, Imagine Dragons, Logic and Ty Dolla Sign featuring X Ambassadors, "Hopeless Romantic" featuring Swae Lee, and "See You Again" featuring Charlie Puth.
Following news of a massive reunion tour, Snoop Dogg and Wiz Khalifa teamed up for a new anthem, "Don't Text Don't Call". The legends exchange hard-hitting bars about being maltreated by love interests and clout-chasing encounters.
"Next time we fuck please don't call I got a new one that want to roll with me/Don't text don't call because I don't want to see you tomorrow," Khalifa exclaims in their new collaboration.
"Bitch I know you ain't in love with me/If it wasn't for my Doggystyle you wouldn't even fuck with me/Cut her off, ain't nothing to a G/Saw that punk bitch from across the street," Snoop Dogg rapped.
Teasing a sequel to their legendary collaborative record "Mac & Devin Go To High School", big surprises can be expected to drop leading up to their massive reunion summer tour. "High school reunion comin summer 23 @wizkhalifa," Snoop Dogg wrote on Instagram, posting a photo of the two rappers together in the studio.
"Snoop is my homie, my homie, my mentor, my partner, my brother. It's always good to have him involved and coaching me on," Wiz Khalifa shared with Build.
As the High School Reunion Tour takes over the stage this summer, make sure to catch the show at Isleta Amphitheater on August 22nd by booking your tickets now!